Edmonton Leisure Park Home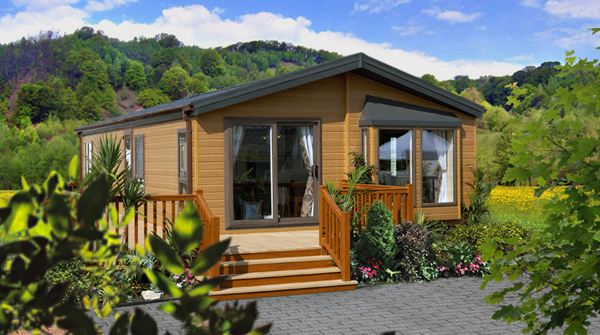 The Cabinspace Park Home Leisure Lodge and Holiday Homes are built to extremely high standards, surpassing the industries BS3632 standard.
The Timber framed structures are built in our state of the art manufacturing plant, using only high quality materials with minimum 25 life expectancy. The dry controlled environment allows us to construct each building in 3/4 weeks with a maximum 4 day installation time.
All our buildings undergo stringent quality controlled measures at various stages to ensure they exceed all possible expectations.
Key Features:
Cold rolled steel chassis 300x 55
Certified kiln dried / treated timber
Fire cement board externally clad
Certified truss roof c/w lightweight tile
High insulation U value 0.21w/m2k
thermostatically controlled
Upvc fascia soffit & barges
Fully certified electrical installation including smoke & heat detectors
Fully fitted kitchen ( full choice from our display )
Exceptional choice of external finishes
Available sizes
| | | | |
| --- | --- | --- | --- |
| 10.8 x 3.6m | 1 Beds, kitchen, Bathroom | View | Floor Plan |
| 10.8 x 6.1m | 2 bed, kitchen Dinning, Bathroom, utilty | View | Floor Plan |
| 10.8 x 7.3m | 2 Bed, kitchen Dinning, Bathroom, utilty, Bay Windows, WC | View | Floor Plan |
| 10.8 x 7.3m | 2 Beds, kitchen Dinning, Bathroom, utilty, WC | View | Floor Plan |
| 10.8 x 7.3m | 3 Beds, kitchen Dinning, Bathroom | View | Floor Plan |
| 12 x 6.1m | 2 Beds, kitchen Dinning, Bathroom, utilty, Patio | View | Floor Plan |
| 12 x 6.1m | 2 Beds, kitchen Dinning, Bathroom, utilty, Patio | View | Floor Plan |
| 12 x 7.3m | 3 Beds, kitchen Dinning, Bathroom, utilty, Patio | View | Floor Plan |
| 13.2 x 3.6m | 2 Beds, kitchen Dinning, Bathroom | View | Floor Plan |
| 13.2 x 7.3m | 3 Beds, kitchen Dinning, Bathroom, utilty | View | Floor Plan |
| 14.4 x 7.3 | 4 Beds, kitchen Dinning, Bathroom, utilty | View | Floor Plan |
| 14.4 x 7.3 | 4 Beds, kitchen Dinning, Bathroom, utilty, Patio | View | Floor Plan |
| 14.4 x 7.3 | 4 Beds, kitchen Dinning, Bathroom, utilty, Patio | View | Floor Plan |
| 14.4 x 7.3 | 4 Beds, kitchen Dinning, Bathroom, utilty, Patio | View | Floor Plan |
| 14.4 x 7.3 | 3 Beds, kitchen Dinning, Bathroom, utilty, Patio | View | Floor Plan |
| 14.4 x 7.3 | 4 Beds, kitchen Dinning, Bathroom, utilty, Patio | View | Floor Plan |

Please contact us for prices for other sizes and configurations